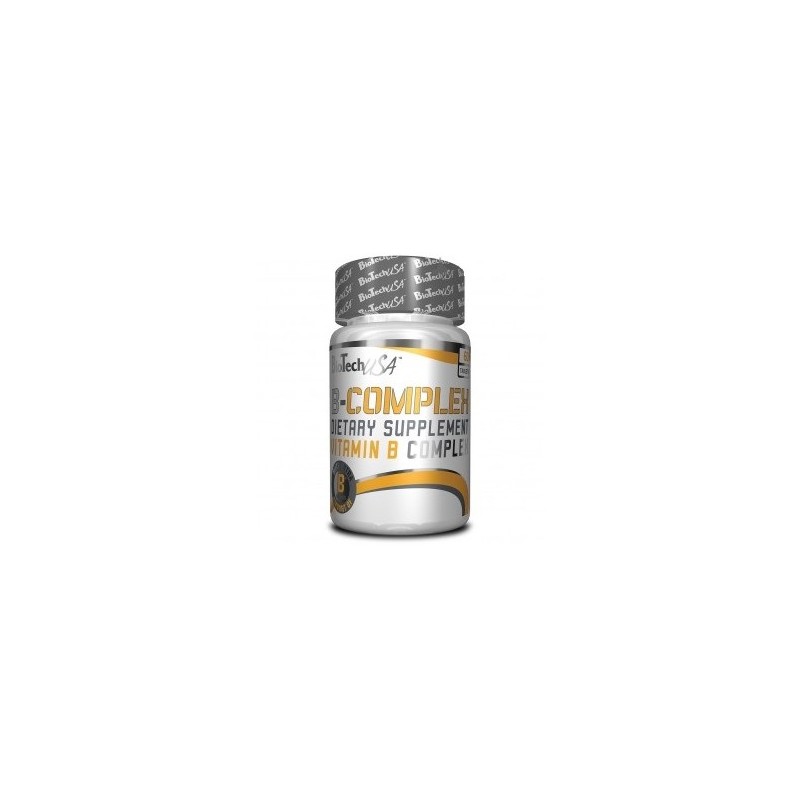  
Biotech Vitamin B Complex 60 tab.
A balanced B complex that provides 8 essential B vitamins along with other vitamins, minerals, antioxidants and herbs.
Biotech USA Vitamin B-Complex

A balanced B complex that provides 8 essential B vitamins along with other vitamins, minerals, antioxidants and herbs. B vitamins support carbohydrate metabolism and energy production. Enhanced with herbs like guarana, ginseng, bee pollen and bio flavonoids.
Vitamin B2 is essential for energy production and contributes to the maintenance of normal mucous membranes, skin and vision.
Niacin provides dietary support for normal psychological function while reduces fatigue and tiredness.
Vitamin B6 plays a role in the maintenance of normal homocysteine levels, regulates hormonal activity and supports normal protein and glycogen metabolism.
Folate also contributes to normal amino acid synthesis and blood formation and supports the proper function of the immune system.
Vitamin B12 is essential for energy production, normal psychological function and formation of red blood cells.
Biotin functions as a coenzyme and contributes to normal macronutrient metabolism. It provides dietary support for healthy skin and hair.
Vitamin B Complex also includes important minerals such as iron which is involved in energy utilization.
Mean analysis

Per 2 tablets


Vitamin A
10000 IU
Vitamin C
500mg
Vitamin D
400 IU
Vitamin E
100 IU
T

hiamine

75mg

Riboflavin

75mg
Niacin
75mg
Vitamin B6
75mg
Folic Acid
400mcg
Vitamin B12
250mcg
Biotin
75mcg

Pantothenic Acid

100mg
Iron
18mg
Selenium
50mcg
Copper
2mg
C

hrome

25mcg

Citrus Bioflavonoids

 
100mg

Bee pollen

50mg

Panax

 

ginseng

 

root extract

50mg

Guarana

 

Seed Extract

50mg

Valerian

 

root powder

25mg

Licorice

 

root powder

25mg
* RDA= Recommended Daily Allowance

Other ingredients: Dicalcium phosphate, maltodextrin,stearic acid, magnesium stearate, lecithin (soy),pharmaceutical glaze. Made in a GMP facility that usesmilk, soy, egg, peanuts.

Warnings: If you are under medical supervision or using any tranquilizers or sedatives, seek the advice of your healthcare professional prior to using. Consult your physician before using if you have an autoimmune condition or depressive disorder or are pregnant or lactating. Not for use by children under 12 years of age. Do not take when operating machinery or driving a vehicle.
†These statements have not been evaluated by the Ministry of Health. This product is not intended to diagnose, treat, cure, or prevent any disease. These informations are issued by the Manufacturer.
Biotech Vitamin B Complex