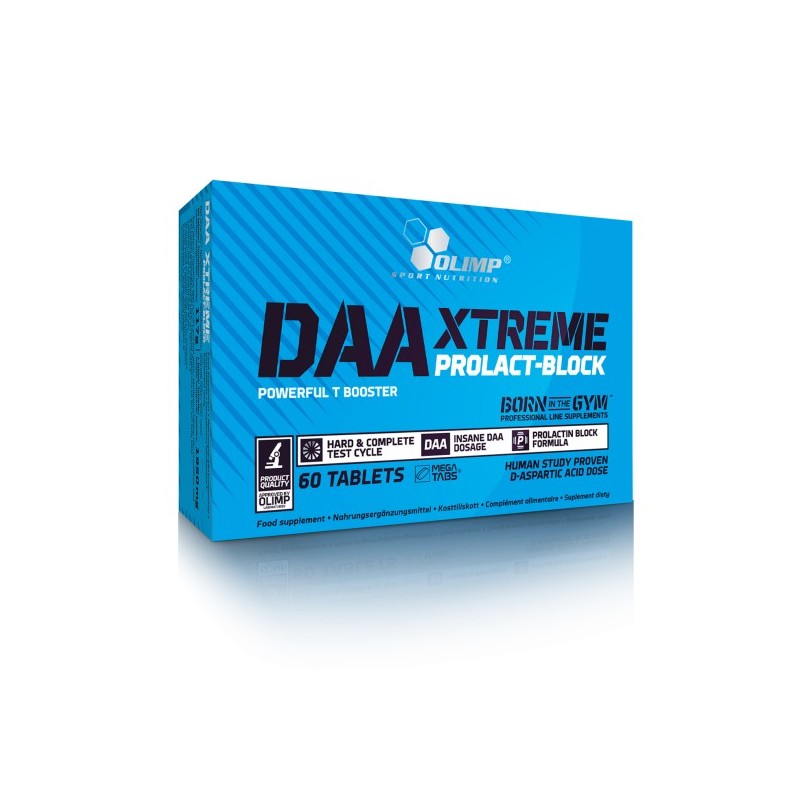  
Olimp DAA Xtreme Prolact-Block 60 tab.
DAA Xtreme PROLACT-BLOCK is a panacea for excessive fatness during heavy mass cycles!
Several years ago experts from Olimp Laboratories stopped designing dietary supplements aimed at increasing the internal production of testosterone affecting the body by using only one biochemical mechanism. As science develops and the demands of professional athletes concerning the quality of products continue to increase (it is now required that as well as increasing the level of testosterone, that products neutralise the adverse effects of elevated concentrations of oestrogen and prolactin), the whole potential currently offered by completely legal and safe active substances has been implemented in one advanced product stimulating the production of testosterone - the DAA Xtreme PROLACT-BLOCK. At the same time, it is also a viable alternative to extremely harmful anabolic-androgenic steroid-like products.

Nowadays, virtually all sports based on strength or speed and strength workouts, directly connect workout results with the body's level of testosterone.

DAA Xtreme PROLACT-BLOCK is a panacea for excessive fatness during heavy mass cycles!
Nutritional information

1 tablet



2 tablets

D-aspartic acid

1600 mg
3200 mg
Vit. E

7,5 mg 
(62,5 %*)
15,0 mg 
(125%*)
Vit. B6

2,1 mg 
(150 %*)
4,2 mg 
(300%*)
Zinc (as zinc amino acid chelate of Albion®)

7,5 mg 
(75 %*)
15 mg 
(150 %*)
Ingredients: 82% D-aspartic acid, bulking agent – isomalt; firming agent - hydroxypropyl methyl cellulose; zinc bisglycinate, DL-alpha-tocopheryl acetate – vit. E, glazing agent - polyethylene glycol; anti-caking agent - magnesium salts of fatty acids, pyridoxine hydrochloride – vit. B6.
Recommended use: 2 tablets per day during breakfast, drinking with large amount of water. Do not exceed the recommended daily dose. Food supplements should not be used as a substitute for a varied and balanced diet. A varied and balanced diet and a healthy lifestyle are recommended. 
Olimp DAA Xtreme Prolact-Block