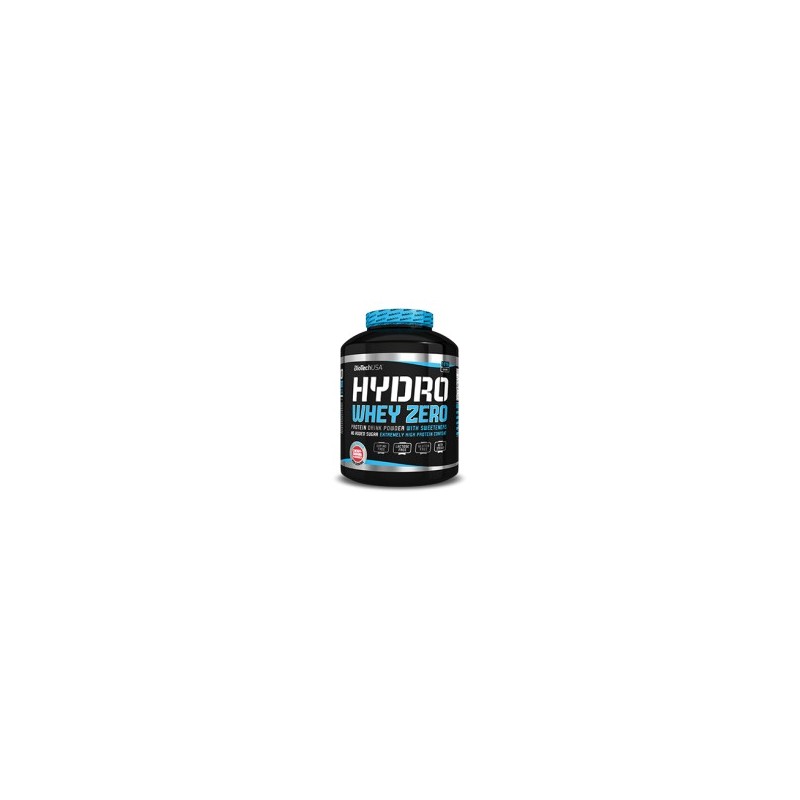  
Biotech Hydro Whey Zero 1816 g.
Hydrolysed whey protein isolate (WPH) is a pre-digested and partially hydrolysed protein powder. During hydrolysation, special enzymes are used to break down protein chains to shorter peptides, which results in a faster digestion and absorption of the given formula. Highly hydrolysed proteins are even less allergenic than other proteins, and are therefore frequently used in protein supplements and nutritional formulas produced for medical purposes.
Lactose, also known as 'milk sugar', is a complex carbohydrate, accounting for about 2–8 percent of the dry matter content of milk. We mainly need lactose during infancy, and therefore it is not uncommon that in adulthood your body does not produce any lactase enzyme, required to break down lactose, which causes lactose intolerance. Today nearly 75% of the world's population suffers from lactose intolerance. During the production process, lactose is separated from whey through a multi-step ultrafiltration and cross-flow filtration micro procedure. Thus, an extremely pure, easy-to-digest and easily soluble whey protein isolate (WPI) is produced, which is a further purified version of whey protein concentrate (WPC) and the basic ingredient of hydrolysed whey protein isolate (WPH), which thus contains even less carbohydrate and fat.
Protein is an essential building block of our body, a source of nutrients made up from amino acids produced by our body and supplemented from external sources, which you need to take in daily to ensure your body's self-sustenance. It contributes to maintaining muscles during workout, a diet and your everyday life. You need more protein if you exercise regularly, want to increase your muscle mass or as you age. A quick, convenient and highly effective way to take in proteins is taking protein supplements; all you need is protein powder, a shaker and some water or milk. Protein powder is easy to digest and, as opposed to consuming large quantities of meat, it doesn't cause acidification. Protein powder can be derived from milk, as well as from animal or plant sources or their combination. Their absorption can be fast (30–40 minutes), moderate (1–2 hours) or slow (more than 2 hours).
Extremely high protein content: 92%
With added functional L-arginine hydrochloride
High amino acid content
Extra fast and easy absorption
Extremely low fat and carbohydrate content
Low sodium content
Without added sugar
With stevia
Gluten-free
Lactose-free
Creamy texture
If you want to announce the absolute champion in the protein powder category, the prize obviously goes to… Hydro Whey Zero, which is pure as snow and fast as lightning!
Boasting a protein content of 92%, Hydro Whey Zero is a hydrolysed whey protein isolate, which–due to hydrolysation–recharges your muscles with the speed of light, virtually providing an instant amino acid refill. It's lactose and gluten-free, with no added sugar. Hydro Whey Zero has a very low carbohydrate and fat content, and it doesn't retain any water, which makes it a good choice during preparation or even a competition. The added amino acid contributes to faster recovery and reduces muscle soreness.
Per serving (25 g):
23.5 g protein
5 g BCAA

with added L-arginine HCl functional amino acid to enhance nitrogen monoxide production
We recommend Hydro Whey Zero if you:
are looking for an excellent source of protein; due to its protein content of 92%, it contributes to maintaining muscle mass and healthy bones as well as to muscle mass growth
seek a high-quality protein supplement for your protein needs but need to avoid lactose due to your intolerance
seek a supplement of almost 100% protein content, in nice and creamy flavours
seek an almost instantly absorbing post-workout protein powder for recovery
are preparing for a contest (aesthetic sports)