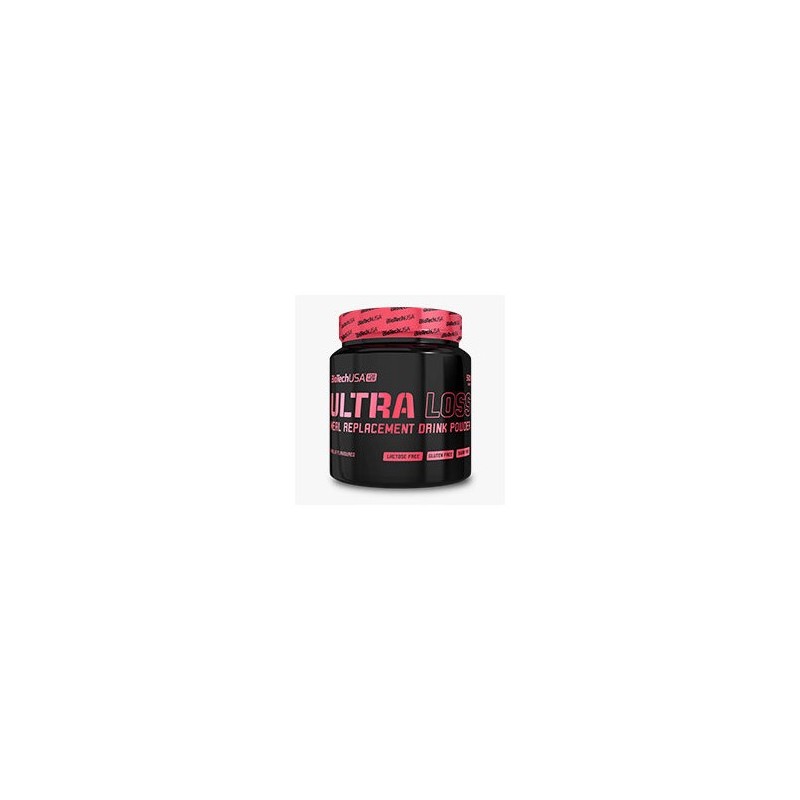  
Biotech For Her Ultra Loss Shake 500 g.
Who is Ultra Loss recommended to?

- anyone, since, due to its 50% protein content, it's a great source of nutrients
- those who want to lose weight through lower calorie intake
- those sensitive to lactose
Like all BioTech USA products, Ultra Loss consists of safe and carefully selected ingredients.

The BioTechUSA for Her product range was created to provide a complete body-shaping solution for women. It was of primary importance to create products which do not contain any sugar, lactose*, preservatives or GMO. The active ingredients of our premium quality products will help you set out on a new journey. A journey that will take you to a woman's greatest treasure - self-confidence. 

*In case of powder products, the statement applies to products dissolved in water and ready to consume.

ULTRA LOSS - IN A NEW FORM
Ultra Loss is a meal replacement shake with 50% protein content, with added vitamins and dietary fibres, now available for women in an improved version free of sugar and lactose, also sweetened with stevia. 

With a complex carbohydrate content, the protein content of Ultra Loss contributes to growing and maintaining muscle mass and normal bones. Besides other vitamins and calcium, the product also contains magnesium, vitamin B12 and niacin. Magnesium contributes to normal protein synthesis, normal muscle function and the normal functioning of the nervous system. Niacin and vitamin B12 contribute to reducing tiredness and fatigue. Our company is committed to sustainable palm oil production, which is also why it was used as ingredient of Ultra Loss.

ONE MEAL MORE, STILL LESS
The wishes of ladies are mostly focused on losing weight. Mixed with water, Ultra Loss only contains 106 calories and can, therefore, be integrated into your diet perfectly. It's a great choice to replace your supper, even every evening, and since it's available in a number of delicious flavours, you'll never get bored with it. 

EAT, BUT WHEN?
You keep hearing and reading that one of the cornerstones of a healthy diet is to have 4-5 meals a day, possibly. On weekdays, however, you often don't even have enough time to eat your breakfast or lunch. That's when quick and convenient Ultra Loss comes in handy! Just put the powder in a shaker, mix it with 300 ml water, shake it and it's ready to drink.
INGREDIENTS: Protein Complex (whey protein concentrate, calcium caseinate), Ultra Loss Blend [fibre (inulin), L-carnitine L-tartrate, digestive enzyme (bromelain), green coffee extract, hyaluronic acid, Q10 Coenzyme], cocoa powder, palm fat1, Carbohydrate Complex (maltodextrin, waxy maize), thickener (sodium carboxy methyl cellulose), emulsifier (soy lecithin), Vitamin complex (calcium phosphates, magnesium oxide, L-ascorbic acid, DL-alphatocopheryl acetate, nicotinamide, retinyl acetate, D-calcium pantothenate, cholecalcipherol, thiamine mononitrate, pyridoxine hydrochloride, riboflavin, pteroylmonoglutamic acid, D-biotine, cyanocobalamin), salt, flavours, sweeteners (sucralose, steviol glycosides), acidity regulator (potassium tartrates). 1The product contains only cold processed, RSPO certified sustainable palm oil. Made in a plant that also manufactures egg, gluten, crustaceans, sulphur dioxide and nuts containing foods.

WARNINGS: Keep out of reach of children. Store product tightly closed between 5-25°C (41-77°F) and the relative humidity below 70%. Keep away from direct heat, moisture and sunlight.

Nutrition Facts (Serving size: 30 g | Servings per container: 16) 100g/30g: Energy (1489 kJ/354 kcal) (18%*)/(447 kJ/106 kcal) (5,3%*), Fat 6,0 g (8,6%*)/1,8 g (2,6%*), -of which saturates 3,5 g (18%*)/1,1 g (5,3%*), Carbohydrate 17 g (6,5%*)/5,1 g (2,0%*), -of which sugars 2,7 g (3,0%*)/0,81 g (0,90%*), Fibre 16 g/4,8 g, (**) Protein 50 g (100%*)/15 g (30%*), Salt 1,2 g (20%*)/0,36 g (6,0%*), Vitamin A 1465 µg (183%*)/440 µg (55%*), Vitamin D 8,9 µg (178%*)/2,7 µg (53%*), Vitamin E 16 mg (133%*)/4,8 mg (40%*), Vitamin C 162 mg (203%*)/49 mg (61%*), Thiamine 2,7 mg (242%*)/0,79 mg (73%*), Riboflavin 2,7 mg (190%*)/0,79 mg (57%*), Niacin (as nicotinamide) 27 mg (166%*)/7,9 mg (50%*), Pantothenic acid 8,9 mg (148%*)/2,7 mg (44%*), Vitamin B6 2,7 mg (190%*)/0,79 mg (57%*), Folic acid 355 µg (178%*)/107 µg (53%*), Vitamin B12 8,0 µg (320%*)/2,4 µg (96%*), Biotin 13 µg (26%*)/3,9 µg (8%*), Calcium 130 mg (16%*)/ 39 mg (5%*), Magnesium 100 mg (27%*)/30 mg (8%*). * Nutrient reference value for adults. Reference intake of an average adult (8 400 kJ/2000 kcal). ** No NRV has been established. <0.5 g sugar/100 ml ready to drink product.

Other active ingredients (30 g): Inulin 4610 mg, L-carnitine L-tartrate 300 mg, Bromelain enzyme (1200 GDU) 160 mg, Green coffee extract 105 mg, of which chlorogenic acid 47 mg, Hyaluronic acid 9,3 mg, coenzyme Q10 5,7 mg. Distributed by BioTech USA Kft. 1033 Budapest, Kiscsikós köz 11., Hungary

RECOMMENDED USE: Mix 1 serving (30 g = 1 level scoop = 3 level tablespoons) product with 300 ml water. Take one serving daily as a meal replacement. For best results, use a blender or a shaker bottle. Do not exceed the recommended dosage! NOTE: We advise that all servings are measured using an accurate set of scales. While we make every attempt to provide an accurate equivalent measure using our scoops, these are only approximate and are not a substitute for using a standardized measuring device.
Biotech For Her Ultra Loss Shake