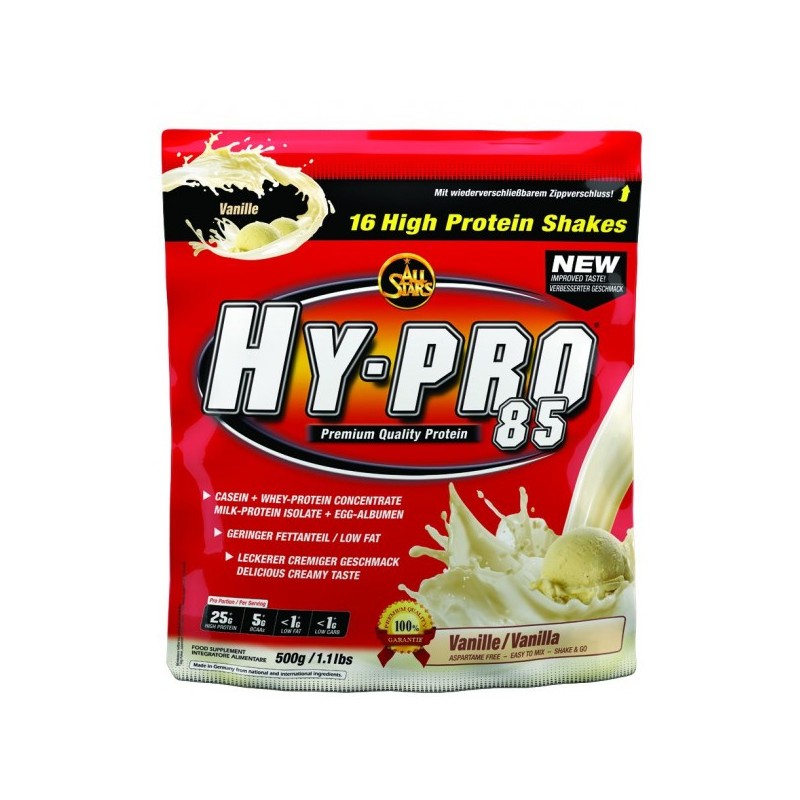  
ALL Stars HY-PRO 85 500 g.
The most successful bodybuilders and strength athletes have still one thing in common: when selecting their food they rely on the proven. Protein concentrates are in the first place. Due to the increased demand, food scientists and manufacturers of sports have discovered higher quality raw materials and developed new production processes. The quality of protein concentrates is now significantly higher than it was just a few years ago. HY-PRO ® 85 provides four different high-quality protein components, without vegetable protein or other inferior protein types. HY-PRO ® 85 - the ideal source of protein to satisfy basic protein care.
Directions for use:
Mix 2 scoops (30 g) HY-PRO ® 85 with 400 ml of skim milk or water and dissolve the powder by vigorous stirring it. The preparation in a blender is the easiest method. Depending on body weight, drink up to 3 portions of HY-PRO ® 85 daily, best for breakfast, as a snack, immediately after training, and/or before going to bed. For optimal training results, consider taking HY-PRO ® 85 daily over a period of at least 6 weeks. Diabetics, please especially take note of the nutrition information for preparation.
up to 80 kg bodyweight - 1 to 2 Servings daily
up to 100 kg bodyweight - 2 to 3 servings daily
over 100 kg bodyweight - 3 servings daily