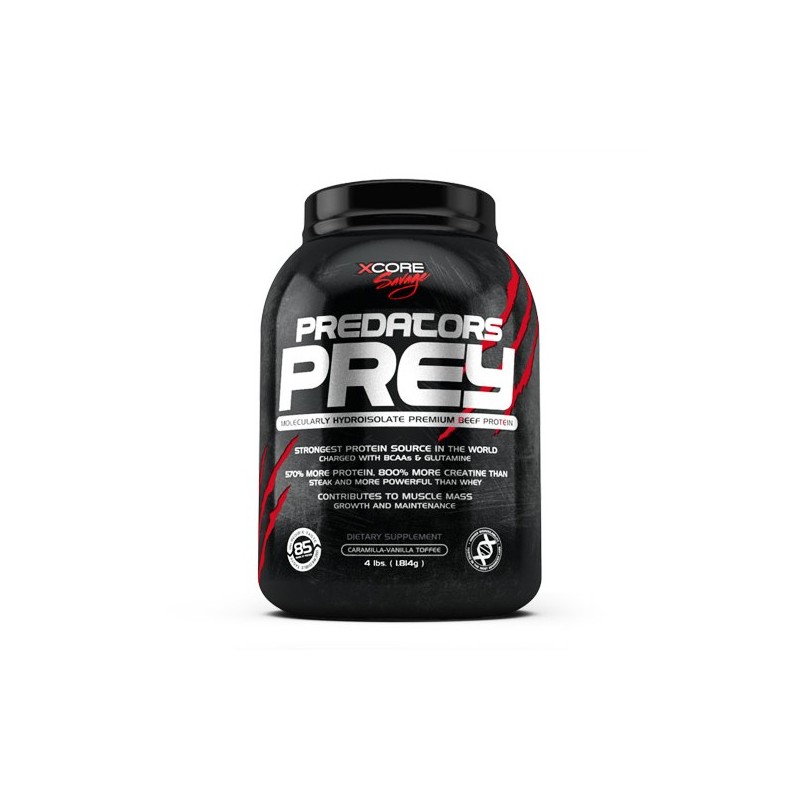  
Xcore Savage Predators Prey 1814 g.
Predators PREY, by Xcore Savage, not only is superior to regular whey, it is also better than actual beef, containing 570% more protein and 800% more creatine than steak.

Inspired by our ancestors' philosophy, Xcore Savage has developed the most effective protein in history: Predators PREY. By putting into practice the most recent knowledge and technology.

Moreover, Predators PREY's formula is extremely rich in ingredients that boost the anabolic process, stimulating the release of growth hormone and reducing the accumulation of metabolic byproducts produced by physical exercise.

Back to our origins

Xcore Savage follows a philosophy that breaks free from the growing tendency of the food industrialization, and gives the purity of natural nutrition back to the consumers.

Xcore Savage represents a commitment to the philosophy our ancestors practiced: to consume only the elements our body was prepared to have. We brought this philosophy back and we took it to a whole different level. Xcore Savage represents the link between modern scientific knowledge and the legacy left by our ancestors, who had a close bond to Nature.

We weren't born to drink the milk, we were born to eat the cow!

Our body was not programmed to consume protein from milk, soy or wheat. We were optimized to consume the best food source available in nature: meat. Predators PREY is the best solution there is to have huge gains in muscle mass.

In order for a person to have the same amount of protein contained in 100 grams of Predators PREY, he would have to eat 3 steaks… large ones too!

Predators PREY takes anabolism to a whole different level

Xcore Savage didn't just develop a protein product that merely repairs muscle tissue and builds new tissues, just like every single protein supplement already in the market.

Our researchers were challenged to do something greater. This led them to strengthen Predators PREY with key ingredients that stimulate the release of growth hormone into the blood stream, hence maximizing gains in muscle mass!

K-Eazyme™ – Multiphase Adjuvant Technology increases your absorption rate and eliminates metabolic byproducts.

But XCORE Savage went even further. To Predators PREY's already superior protein formula, we added an innovative complex: K-Eazyme™ – Multiphase Absorption Technology. This exclusive, patent pending complex makes Predators PREY truly unique.

Just like meat, Predators PREY contains its own enzymatic complex, K-Eazyme™, which, at an initial stage, ensures that the 30g of protein in each serving of Predators PREY are completely digested.

Unlike what happens with common whey products, that have a digestive process that is similar to milk's and, for that reason, are digested in the intestines, Predators PREY is digested in the stomach, being subsequently absorbed in the intestines. This ends, once and for all, that swelling and uncomfortable sensation typically associated with whey, while ensuring a much more efficient protein absorption at the same time.

What good is it to have 34 grams of protein if the body ends up only absorbing half of it? K-Eazyme™ makes sure you're not wasting your money.

Usually, digesting a massive dose of protein will generate metabolic byproducts. K-Eazyme™ has a Keto-Complex that makes sure these metabolic byproducts are quickly eliminated, just like it does with other byproducts produced during physical activity.

Predators PREY Highlights:
- 570% more protein and 800% more creatine than a steak
- 34g of protein per serving
- Enriched with BCAAs and Glutamine
- Strengthened with digestive enzymes
- Tastier than whey
- 0g of sugar per serving
- 0g of Lactose
- 0g of Gluten
Servings size: 1 scoop(s) (40.0 g)
Servings per container: 45
Cookies and Cream

By serving
Daily Quantity
 
%RI (*)
Energy Value
161 kcal = 674 kJ
8%
Total Fat

2.10 g
3%
Saturated Fat
1 g
5%
Trans Fat
0 g
**
Cholesterol
0 mg
**
Carbohydrates
3.20 g
1%
Sugars
1.10 g
1%
Fibre
0 g
**
Prtotein
32 g
64%
Sodium
228 mg
10%
Vitamin A (as Retinyl Acetate)
 
1069 iu
Vitamin C (as Ascorbic Acid)
33 mg
41%
Vitamin E (Tocopherol Acetate)
 
4.80 iu
Thiamin (Vitamin B1) (as Thiamine Mononitrate)
0.44 mg
40%
Riboflavin
0.60 mg
43%
Niacin (as Niacinamide)
6.40 mg
40%
Pantothenic Acid (as D-Calcium Pantothenate)
2.40 mg
40%
Vitamin B6 (Pyridoxine HCL)
0.56 mg
40%
Biotin
21 mcg
42%
Folic Acid
81 mcg
41%
Vitamin B12 (Cyanocobalamin)
1 mcg
40%
Potassium
23 mg
1%
Calcium
38 mg
5%
Magnesium
5.20 mg
1%
Phosphorus
34 mg
5%
K-Eazyme™
 
123 mg
Ornithine AKG
 
**
Arginine AKG
 
**
Glutamine AKG
 
**
Bromelain
 
**
Protease
 
**
Lipase
 
**
MHPB™
 
34 g
Molercularly Hydroisolate Premium Beef Protein
 
**
Glycine
 
**
Creatine Monohydrate
 
**
Glutamine
 
**
Leucine
 
**
Isoleucine
 
**
Valine
 
**
Egg protein
 
**
* Reference intake of an average adult (8 400 kJ/ 2 000 kcal).
** Reference intake not established.
Other Ingredients:Coconut Milk Powder, Chocolate Shavings, Natural and Artificial Flavors, Maltodextrin, Sweetener (Sucralose) .
Directions: : As a dietary supplement, mix 1 scoop with 300-400 ml (approx. 10-14 fl oz) of cold water, or any beverage you prefer, in a glass or shaker cup. For better results, use water between 15-20°C and shake vigorously for at least 30 seconds. Let it stand for a little while, then shake for 10 seconds more. Use between major meals and after exercise. Vary the amount of liquid to achieve your desired flavor and consistency. Consume 2-3 times a day for optimal muscle growth.
Warnings: Not intended for use by persons under the age of 18. Do not use if pregnant or nursing. Consult a physician prior to use if you have any medical condition. Do not use as a sole source of nutrition for weight loss or maintenance. This product must not be used as a substitute of a varied diet. Do not exceed the recommended daily dosage. Discontinue use and consult your doctor if any adverse reactions occur. This product is not intended to diagnose, treat, cure, or prevent any disease. These statements have not been evaluated by the Food and Drug Administration. Keep out of reach of children. Store in a cool, dry place.
Alergy Alert: Contains ingredients from egg. May contain traces of milk, soy, lupine and wheat. This product is not recommended for patients suffering from celiac disease, severe gluten allergy.