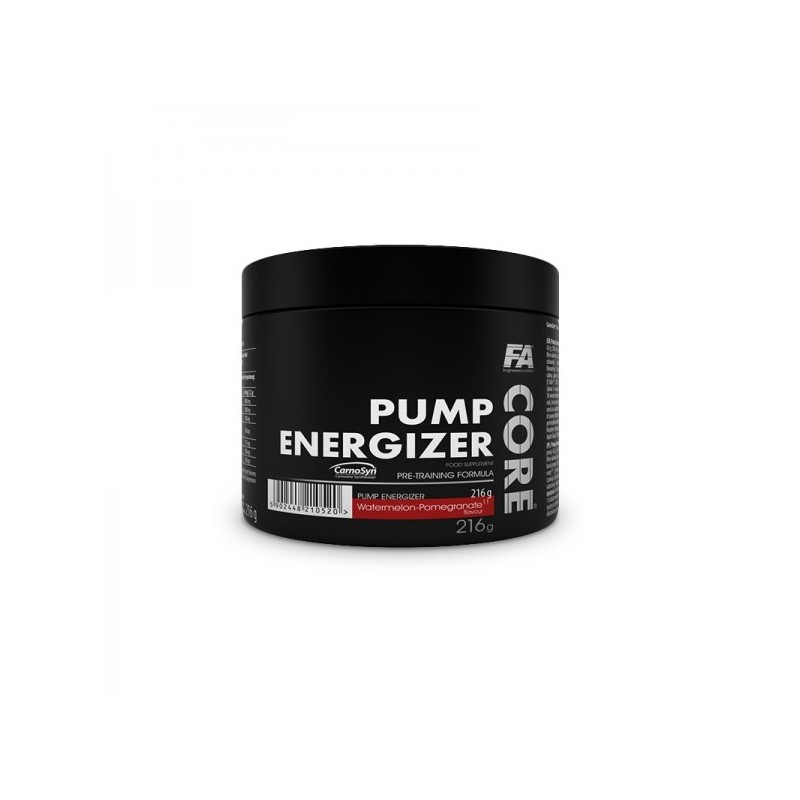  
FA Pump Core Energizer 216 g.
Contributes to increased Power & Strength.
Does not contain Creatine
High Quality Active Ingredients.
2.6g Beta-Alanine
200mg of Caffeine
If you are looking incredible PUMP, FOCUS, ENERGY and improved efficiency in training – this product is for you! It contains only proven and effective active ingredients. Highest quality guaranteed by the manufacturer!
Fitness Authority CORE Pump Energizer contributes to significant improvements in aerobic sports due to the high dose of beta-alanine. It also helps to maximize NO pump while training. The muscle pump effect is triggered by a specially formulated composition of active ingredients which are also precursors of nitric oxide (NO).
Supplement Facts:
Serving Size: 7.2g
Servings Per Container: 30
Amount Per Serving:
Beta-alanine (CarnoSyn ) 4000 mg
arginine alpha-ketoglutarate 1000 mg
This L-Arginine 700 mg
L-ornithine hydrochloride 200 mg
In the L-Ornithine 157 mg
L-Tyrosine 300 mg
Caffeine 300 mg

Other ingredients:
Beta-alanine (as CarnoSyn®), arginine AKG, flavouring2,5, flavourings1,3,4,6,7,8, red beet concentrate (for colouring)11, acidity regulator (citric acid), colour (E150c12), flavourings9,10, L-tyrosine, caffeine, flavourings11, flavouring12, L-ornithine hydrochloride, red beet concentrate (for colouring)1,4,7,9,10, anti-caking agents (silicon dioxide, calcium phosphate), sweeteners (sucralose, acesulfame K), colour (E160a3,6,8, E1332, E1415).
Recommended Use:
Serving Size (depending on weight):
Under 90 kg - ¾ Scoop (~4.8 g)
Over 90 kg - 1 heaping scoop (~7.2 g)
Take one serving 30 min before training.