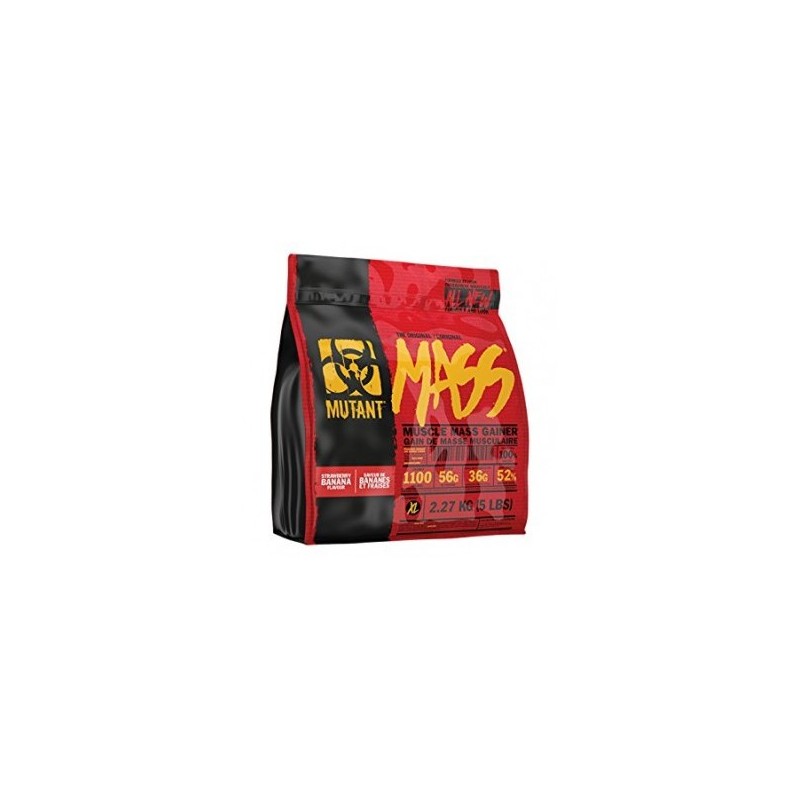  
Mutant Mass 2300g
Mutant Mass (2.3 kg)
PVL Mutant Mass is the ultimate lean gainer you've been waiting for! Mutant Mass is a serious calorie-dense formula, designed with only hard working athletes in mind, who demand power, absolute size and all out strength. If you are serious about gaining slabs of lean muscle mass, faster than ever, then Mutant Mass is the answer.
Features
Iso-Stack 10 (The Ultimate Protein Mix) -PVL's award winning blend of 10 superior, muscle building proteins - no wimp proteins like soy, wheat or other veggie protein - just pure, high BV/PER amino acid proteins proven to build lean tissue. Clean Carb (Lower GI Carbohydrate Mix) - Features a 3-fiber blend of low sugar carbs, stacked with an exclusive high molecular weight, sugar free Vextrago for vastly improved glycogen loading. Lipotherm - Delivers essential fatty acids, fat burning CLA and high energy lipothermic MCT's, all with zero trans fat for stimulating faster gains than other weight gainers. Intrasorb (Calorie uptake Augmentation Mix) - The superior muscle activation proprietary matrix - 5 ingredients that trigger massive absorption, fuller utilization and complete muscle uptake of these powerful high calorie nutrients, unleashing faster gains in lean body mass than you ever thought possible.
Amounts Per Serving:
Energy: 1,060 kcal
Protein: 52 g
Total Carbohydrates: 176 g

Sugars: 34 g
Dietary Fiber: 8 g

Fat: 18 g

Saturates: 10 g
Trans Fat: 0.2 g

Cholesterol: 50 mg
Sodium: 320 mg
Potassium: 1640 mg
Other Ingredients:
Waxy Maize, Maltodextrin, Fructose, Dextrose, Corn Solids, Whey Protein Concentrate and Protein Matrix [Whey Protein Concentrates, Micellar Casein, Milk Protein concentrate, Calcium Caseinate, Egg White Albumen Protein, Whey Protein Isolate, Milk Protein Isolate, Whey Protein Hydrolysate], Defatted Soybean [fibre source], Cocoa, Fractionated Coconut Oil [supplies MCTs (Medium Chain Triglycerides)], Waxy Barley Starch, Corn Syrup Solids, Flax Seed Powder, Glutamine Peptides [from Wheat], Sodium Caseinate, Milk Fat Solids, Guar Gum, Vanillin, Inulin [Fibre source from Chicory], Powdered Sunflower Seed Oil [supplies CLA], Colostrum, Inositol, Cinnamon Extract, Sucralose, Mono & Diglycerides, Dipotassium Phosphate, Potassium Citrate, Soya Lecithin.
Recommended Use:
Shake or blend the contests 260 g wth 480-960ml of water or milk