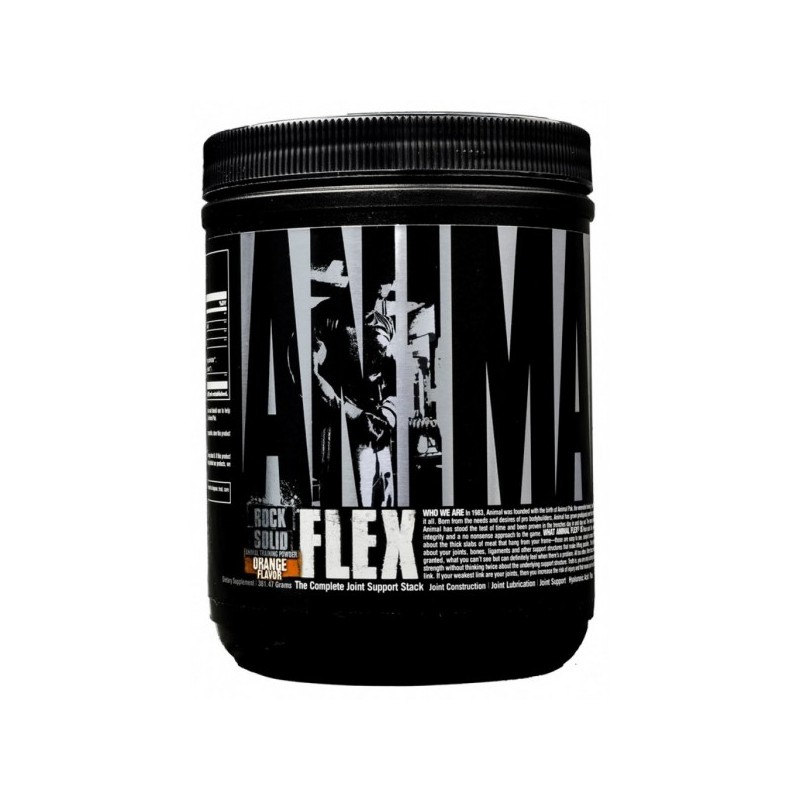  
Universal Nutrition ANIMAL FLEX 380 g.
Animal Flex works by helping to strengthen joints and ligaments, shielding them from the daily wear and tear brought about rigorous training. The ingredients in Animal Flex can help maintain healthy joint function, elasticity, and flexibility.
Serious trainers take a beating in the gym. This iron sport is grueling, arduous and repetitive. There's no way around that reality. You will be sore, you will get hurt, you will feel pain regularly. How you recover, how you respond how you remedy and deal with that pain will ultimately determine how strong you are on the platform or high you ascend on the competitive bodybuilding stage.

To reach the lofty goals you set for yourself, think marathon and not sprint. You have to approach training like it's your job. If you're out sick, you're not moving forward. The same applies in the gym. If you're injured, you can't train. And if you can't train, you won't grow. Nagging injuries and joint issues will most certainly hinder a lifter's progress. Dealing with injuries is all part of the game, and some are simply beyond your control. But there are measures you can take to fortify your weak links and minimize the nicks and dings that come with the territory when training on a high level. One such preventative step is joint support nutrition.

No other joint supplement designed for serious lifters has won more awards and accolades than Animal Flex. Why? Because Animal Flex flat out works. Animal Flex has won the prestigious 'Joint Supplement of the Year' award eight years in a row. But more importantly, Animal Flex has changed the lives of lifters around the world and has helped keep them in the gym, day in and day out.

When you're building a house, you need to make sure that its foundation is rock solid, because that massive structure puts tremendous pressure on the underlying base. As an athlete, you should focus as much attention on the foundation as on the structure that sits atop it. Your body's foundation is your joints, ligaments, tendons, and all the connective tissue the framework that supports your growing muscle. The harder you train, the more stress you put on your structure. Each workout not only taxes muscle but sinew and can, over time, weaken this vital connective tissue. Remember, when a foundation crumbles, the house is quick to follow and the bigger the house, the bigger that potential.

Animal Flex works by helping to strengthen joints and ligaments, shielding them from the daily wear and tear brought about rigorous training. The ingredients in Animal Flex can help maintain healthy joint function, elasticity, and flexibility. Many of Animal Flex's active ingredients provide the basic building blocks that are required to maintain human structural integrity.

Animal Flex, like other Animal supplements, is complete and comprehensive. Each pack of Animal Flex consists of several key protective complexes: (1) a potent joint construction complex to help repair connective tissue; (2) a lubrication compound to help cushion the joints from lifting; (3) a support complex to help promote rehabilitation and reduce soreness; and (4) an essential vitamin/mineral blend to underscore optimal joint health.

As a joint 'constructor', Animal Flex is powered by proven reconstruction nutrients. Animal Flex provides the joints with the essential raw materials such as glucosamine (two forms), MSM, and chondroitin… Ingredients designed to naturally protect and restore joint health while strengthening the underlying cartilage and connective tissue. These nutrients, once absorbed, can work quickly and efficiently to aid in the rebuilding of cartilage.
Supplement Facts
Serving Size: 1 Scoop (12.72g)
Servings Per Container: 30
Calories 16 
Total Fat 1g <2%* 
Protein 4g 8%*
 Vitamin C (as ascorbic acid) 100mg 167% 
Vitamin E (as d-alpha tocopherol succinate) 100IU 333% 
Zinc (as zinc oxide) 15mg 100% 
Selenium (as sodium selenite) 70mcg 100% 
Manganese (as manganese sulfate) 1mg 50% 
Joint Construction Complex 3000mg:   
Glucosamine (as HCl, sulfate 2KCl), Methylsulfonylmethane (MSM),  Chondroitin Sulfate A (CSA), Chondroitin Sulfate C (CSC) 
Joint Lubrication and Support Complex 6000mg     
Collagen Hydrolysate, Ginger Root (gingerols, shogaols), Turmeric Root (curcumin), Boswellia Serrata Extract (gum) (boswellic acid), Quercetin, Bromelain, Cetyl Myristoleate Proprietary Blend      (cetyl myristoleate,  cetyl myristate, cetyl palmitate, cetyl laurat, cetyl palmitoleate, cetyl oleate) , Hyaluronic Acid 

Other Ingredients: Natural and artificial orange flavors, citric acid, malic acid, silicon dioxide, sucralose, acesulfame potassium, FD&C yellow #5, FD&C yellow #6. 

Contains: Soy and shellfish (crab/shrimp shell). Made in a GMP facility on equipment that processes milk, soy, egg, peanuts, tree nuts, fish, shellfish, and wheat. 

INGREDIENT NOTES: Cetyl Myristoleate is patented by EHP Products (U.S. Patent #5,569,676).
Directions: Unlike regular joint supplements, you only have to take a single daily dose of Animal Flex. Easy. Potent. Effective. Just take a serving of Animal Flex along with 10 oz. of your beverage of choice, with any meal during the day and you're set—doesn't matter which meal it is. That's it. As a "core" or foundational supplement, use Animal Flex daily—on both training and non-training days. No need to "cycle" it.

Warning: Exercise good judgment and keep this out of reach of children. To keep it as fresh as possible, store this product in a cool, dry place, away from heat, moisture and sunlight. You know the drill.
Universal Nutrition ANIMAL FLEX