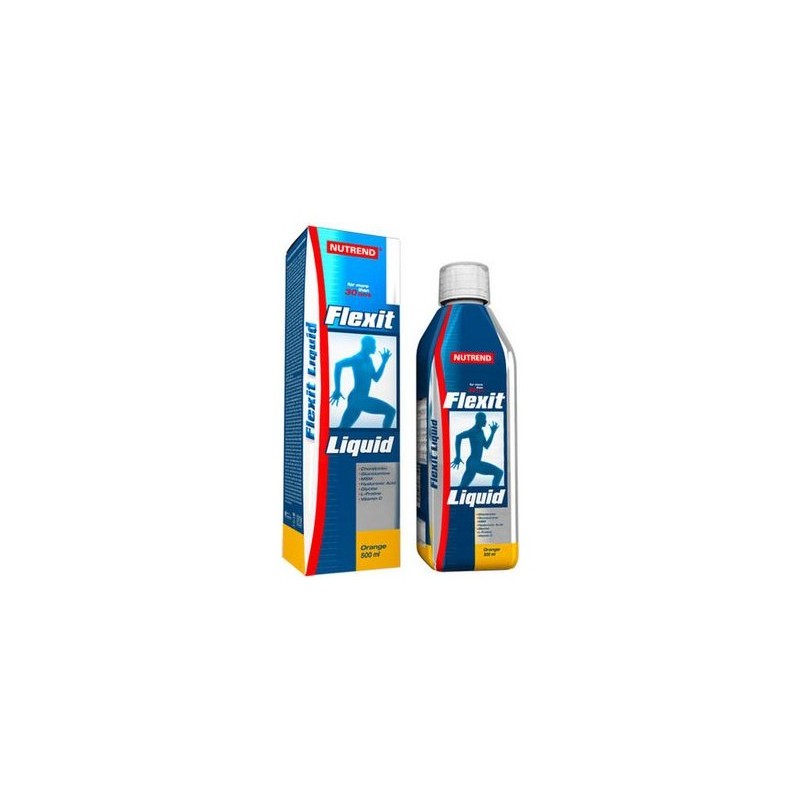  
Nutrend Flexit Liquid 500ml.
FLEXIT drink protects, nourishes and regenerates tissue - joints, joint capsules, cartilage, tendons, ligaments and bone.
FLEXIT drink protects, nourishes and regenerates tissue - joints, joint capsules, cartilage, tendons, ligaments and bone.
FLEXIT LIQUID hels:
- improve mobility – FLEXIbility of joints
-  stimulate activity of cells taking part in the creation of ligament tissue
- improve mechanical - elastic characteristics of cartilages, joints (elasticity, hydratation)
-  regenerate effectively and intensively and to protect joints and ligaments from damage
Complex of key agents for joint nutrition and regeneration - Glukosamine, chondroitine, MSM, hyalurone acid, glycine, L-proline, C vitamin in fast absorbent and highly effective liquid form. FLEXIT LIQUID - For replenihment and enrichment of nutrition in case of joint problems, for individuals under risc of joints abrasion and exertion (during sports, overweight), individuals with limited mobility or joint tireness, nutrition enrichment after injuries.
Collagen protein (hydrolysed gelatin) a source of a wide range of amino acids and peptides which are involved in the formation of collagen. Ensure proper development, nourishes and protects the joint. It improves the condition of hair, skin and nails. The formulation uses 97% enzymatically hydrolyzed gelatin grafted with high biological value, easy to digest, łatwowchłanialny and immediately used by the body.
Glucosamine is formed in the body from glucose. Positive influence on the mobility of joints and stimulates the synthesis of connective tissue. Limits the catabolic processes within the cartilage. Involved in the formation of synovial fluid in the joints allow movement, and protect basic elements before traction. Glucosamine is a precursor to chondroitin.
Chondroitin sulfate builds and regenerates tissue. Ensuring the appropriate level by complementing diet intensely protects against degeneration of cartilage, which research has shown.
Hyaluronic acid is a major component of synovial fluid intercellular mass of cartilage. Adds softness, elasticity and viscosity. The structure of the molecule has the properties of hyaluronic acid, even at low concentrations, many of the binding of water molecules during gel formation, increasing tissue resistance to external pressure.
MSM (methylsulfonylmethane) is an organic sulfur compound that occurs naturally in the human body. It is involved in the formation of collagen fiber structure. Due to its antioxidant properties damaged cartilage protects against free radicals, while reducing pain. Sulfur in MSM is involved in the synthesis of the essential amino acids L-methionine and L-cysteine.
L-Proline is essential for the formation of collagen, accelerates regeneration of damaged cartilage and ligaments.
Vitamin C is an antioxidant. Eliminates free radicals, which damage the surface of cartilage.
Vitamin D3 increases the saturation of bone calcium.
Calcium is the primary building block of bone.
Magnesium in combination with calcium affects the nervous system and the musculoskeletal. Works anti-stress on the body.
Supplement Facts:
Serving Size: 10ml/15ml
Serving Per Container: 50/33
Amount Per Serving:
Energetic value51,8 kJ/12,2 kcal
Proteins 0,3 g
Saccharides 2,7 g
Sugars 2,55 g
Fats 0 g
Saturated fatty acids 0 g
Fibre 0 g
Sodium0 g
Glucosamine hydrochloride 1 500 mg
Methylsulfonylmethane (MSM 300 mg
Chondroitine sulphate150 mg
L-Proline  150 mg
Glycine 150 mg
Ascorbic acid (vitamin C) 72 mg = 120 % rdd
Hyalurone  3,8 mg
rdd = recommended daily dosing
Other Ingredients:
water, fructose, glucosamine hydrochloride, chondroitin sulfate, methyl sulfonyl methane, L-Proline, glycine, vitamin C (ascorbic acid), natural and nature identical orange aroma, acidity regulator citric acid and malic acid, preservatives potassium sorbate and sodium benzoate , hyaluronic acid (sodium chloride), sweeteners acesulfame K and sucralose, coloring β-carotene
Recommended Use:
To protect actual ligament tissue:  once a day 10 ml in the morning before meal
In case of increased wear and states of damage: once a day 15 ml in the morning before meal.
during sport activity, in case of overweight, serious damage of joints, ligament tissue and poor stage of hair, skin and nails - the basic dose can be increased up to two times a day 15 ml (between meals).
Best to serve continuously for minimum of 60 days.
Do not exceed recommended dosing. It does not substitute various food.
Usage: Serve by spilling the content of measuring cup into cold beverage.
After usage closed the bottle properly, wash out measuring cup with hot water and dry it out.
After opening the product should be closed properly and stored at the temperature below 10°C and consumed within 2 months.
Shake before usage!