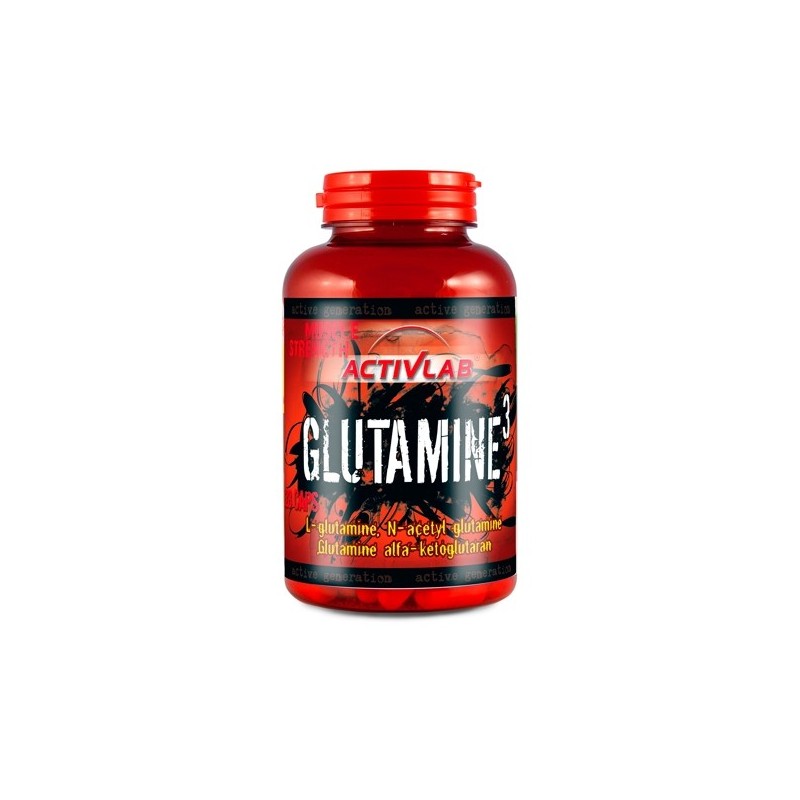  
ActivLab Glutamine 3 128 caps.
Prolonged Action Formula!
- Muscle Recovery
- Nitrogen Transport
- Fast Absorption
- Helps increase strength and muscle mass
Glutamine 3 is a combination of three forms of glutamine: l-glutamine, N-acetyl glutamine (NAG) and glutamine ketoglutaran (AKGG). Such a combination of glutamine from various sources ensures a quick saturation of the organism with this amino acid and a long lasting increased level of glutamine in the organism.
L-Glutamine, the free form amino acid, is the single most abundant amino acid present in skeletal muscle. L-Glutamine may support muscle tissue by limiting the degradation of protein through nitrogen retention, glycogen synthesis, and protein synthesis. L-Glutamine may also assist in the fueling and removal of environmental toxins. Thus, L-Glutamine has been dubbed "the thinker´s amino". L-Glutamine´s muscle and brain tissue supporting qualities have made L-Glutamine an invaluable addition to an athlete´s regimen.
Because L-Glutamine is non-toxic, you can safely take it year-round without needing to cycle it. L-Glutamine is a fundamental bodybuilders´ supplement. Don´t be without it! Laboratory Tested for quality and purity.
Supplement Facts:
Serving Size: 4 Caps
Servings Per Container: 32
Amount Per Serving:
Energy value 6.8kJ / 1.6kcal
protein 0g
fat 0g
Carbohydrates 0.4 g
L-Glutamine 1400mg
N-acetyloglutamina 1200mg
glutamine alpha-ketoglutarate 1200mg
Recommended Use:
Take 1 portion (4 capsules), 2-3 times daily - before breakfast, after training and before sleep.