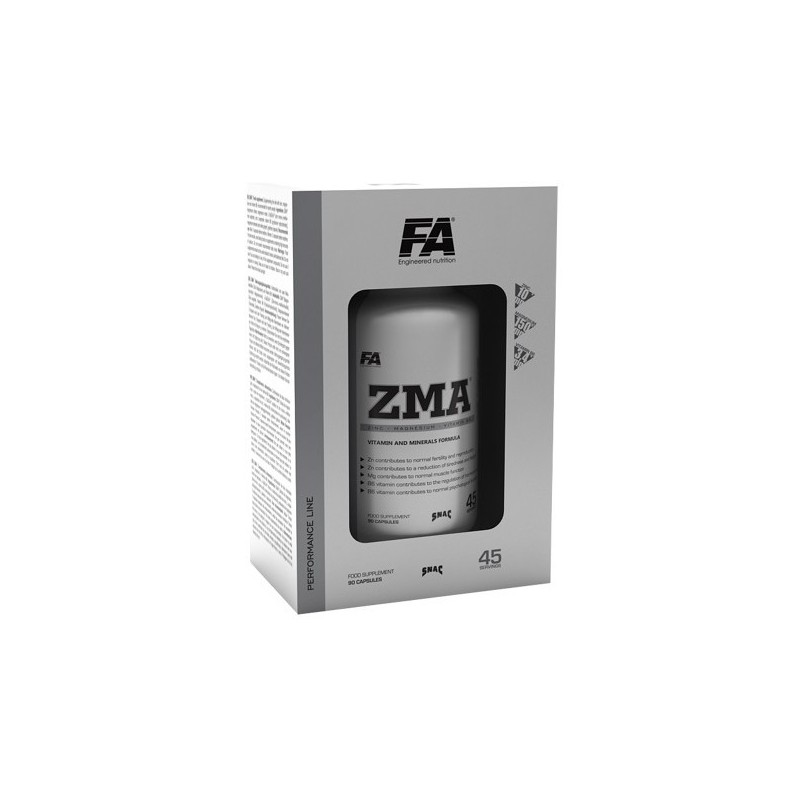  
FA ZMA 90 caps.
ZMA® is an advanced formulation designed to significantly improve muscle strength and endurance as well as accelerate healing and tissue repair.
ZMA® is an advanced formulation designed to significantly improve muscle strength and endurance as well as accelerate healing and tissue repair. New ZMA® FA Nutrition composition contains of zinc mono-L-methionine sulphate (L-OptiZinc®), patented by SNAC System, zinc L-aspartate and vitamin B6 in perfect and precise proportions. Enriched additionally in magnesium citrate and oxide. This specific formulation was made using a special process, which aims to maximize the absorption and utilization of these minerals. Published studies conducted under the direction of Dr. Lorrie Brill at Western Washington University have demonstrated that ZMA® supplementation before sleep significantly increases the level of free testosterone, IGF-1 and muscle strength in athletes. According to the research team under the direction of Victor Conte, director of BALCO Laboratories in Burlingame, only this form of ZMA® is an effective, completely natural and safe supplement and its properties have been proven in clinical trials and it was designed to increase anabolic hormone production and improve muscle strength in athletes.
ZMA® is an acting synergistically food supplement that consists of 3 active ingredients: zinc, magnesium and vitamin B6. Innovation and effectiveness of ZMA® is achieved by the use of zinc and magnesium in specific and selected ratios. As a result, they are immediately absorbed into the bloodstream and distributed throughout the body, causing the biological activity in the targeted tissues and muscles. Natural anabolic formula directly and effectively supports muscle recovery after exercise and causes a deep and healthy sleep.
ZMA®'s highest quality formula
New improved and enriched composition
Broad spectrum of activity confirmed in practice
Helps to support post-workout recovery processes
Supports inhibiting catabolism - protects muscles from breakdown
Works anabolic and helps to build lean muscle mass
Accelerates the development of muscular endurance and strength
Increases natural level of testosterone, growth hormone and IGF-1
Helps in achieving deep sleep and relaxation
Effectively increases the body's resistance
ZMA® is a completely natural, nonsteroid-anabolic composition of zinc and magnesium enhanced with vitamin B6 for people who are physically active and most of all for those who want to increase muscle mass, muscular endurance and strength. All active ingredients included in ZMA® effectively reduce muscle catabolism, promote anabolic processes, prevent muscle cramps, help to relieve the pain associated with overtraining, prevent the occurrence of stress and overstrain, increase concentration and help in deep, restful sleep. Minerals, in particular zinc and magnesium, are extremely important in the diet of every human and especially athletes. Their right concentration in the body determines the proper course of many metabolic processes especially all growth and tissue regeneration processes. Without adequate amounts of these minerals, homeostasis, the balance of the body is disrupted which leads to overstrain, lack of proper activity and efficiency, resulting in lack of training effects. Although, it is widely known that ZMA® is a supplement designed especially for athletes and physically active people but it can bring a lot of benefits to everyone.
Serving size: 2 capsules 
Servings per container: 45
Amount per:
1 capsule (% RDA)
2 capsules (% RDA)
3 capsules (% RDA)
Zinc
5 mg (50)
10 mg (100)
15 mg (150)
Magnesium
74 mg (20)
150 mg (40)
225 mg (60)
Vitamin B6
1,7 mg (121)
3,4 mg (243)
5,1 mg (364)
% RDA – Recommended Dietary Allowance

Net quantity: 90 capsules

SNAC Registered Trademark of SNAC SYSTEM, INC. 1551 Industrial Rd., San Carlos, CA 94070

ZMA ® is a trademark of SNAC Systems, Inc.

L-OptiZinc ® is a trademark of InterHealth N.I.

Ingredients: ZMA® [magnesium citrate, magnesium oxide, L-OptiZinc® (zinc mono-L-methionine sulphate), zinc L-aspartate, vitamin B6 (pyridoxine hydrochloride)], magnesium stearate (anti-caking agent), gelatine (capsule).

Recommended Use: Men: 3 capsules before bedtime, Women: 2 capsules before bedtime. For best results, avoid taking foods or supplements containing high amounts of calcium. Do not exceed recommended daily dose.

Warnings: Food supplements should not be used instead of varied, well-balanced diet. Do not use if you are allergic to any of the supplement compounds. Do not use if pregnant or nursing. Keep out of reach of children. Store in dry and cool place. Protect from direct sunlight.