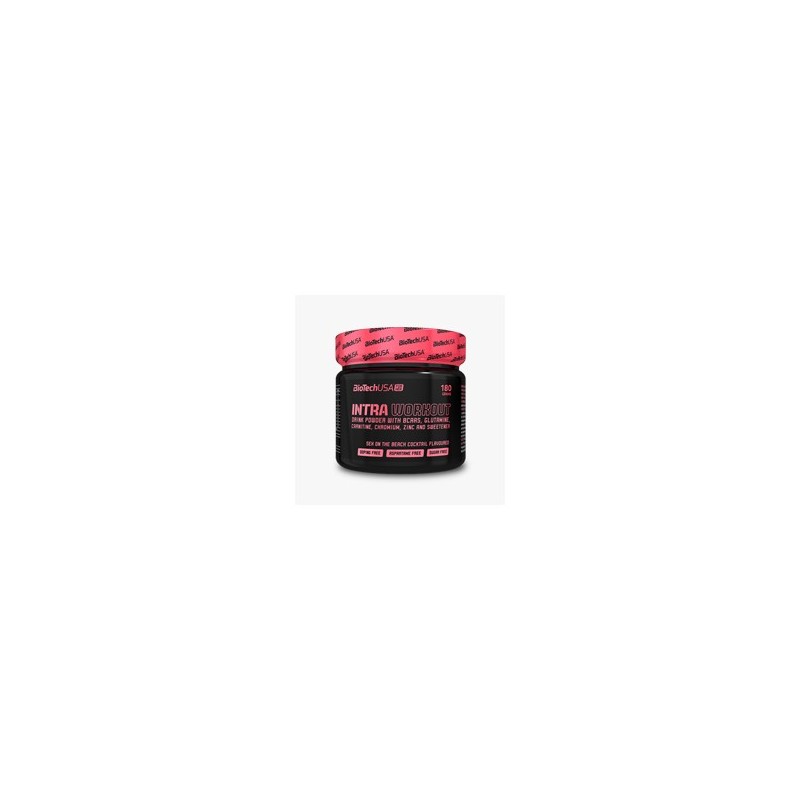  
Biotech For Her Intra Workout 180 g.
The 'BioTechUSA for Her' product range was created to provide a complete body-shaping solution for women. 
Who is Intra-workout recommended to?

- those who want a carb-free intra-workout supplement
- combat athletes
- those who prefer powder supplements
- those seeking extra support to their workout

The 'BioTechUSA for Her' product range was created to provide a complete body-shaping solution for women. It was of primary importance to create products which do not contain any sugar, lactose*, preservatives or GMO. The active ingredients of our premium quality products will help you set out on a new journey. A journey that will take you to a woman's greatest treasure - self-confidence. 

*In case of powder supplements, the statement applies to products dissolved in water and ready to consume.

DON'T WANT TO RUN OUT OF ENERGY?
You have goals with your body, so you work out really hard? Still, you often feel that after a strong beginning your energy fails you, and you wait for the end your training exhausted too soon? Now nothing can stop you from switching to a higher gear without taking in excessive calories! 

The key ingredients of the product - BCAA, L-carnitine, vitamins and minerals - will help you achieve your goals.

The most popular active ingredient to supplement your diet is L-carnitine, which is a compound containing amino acid, naturally produced in the human body. As carnitine is a component of the fatty acid transport system, the energy stored in fats can be used through it, and therefore it is necessary for turning fat into energy.

Magnesium, niacin (vitamin B3), pantothenic acid (vitamin B5) and vitamins B6 and C contribute to reducing tiredness and fatigue.
Magnesium contributes to normal muscle function and the normal functioning of the nervous system, vitamin C contributes to the normal functioning of the nervous system, and both contribute to maintaining normal psychological function. Chromium contributes to maintaining normal levels of blood sugar. Zinc contributes to the normal metabolism of macronutrients and fatty acids. Pantothenic acid (vitamin B5) contributes to normal mental performance.
INGREDIENTS: Intra Workout Complex [BCAAs 33% (L-leucine, L-isoleucine, L-valine), L-glutamine (33%), L-carnitine L-tartrate (11%), magnesium oxide, L-ascorbic acid, zinc oxide (0.0069%), pyridoxine HCl, chromium (III) chloride hexahydrate (0.0012%)], flavours, acid (citric acid), sweetener (sucralose), anti-caking agent (magnesium salts of fatty acids), colours (Allura Red AC, tartrazine)*. *May have an adverse effect on activity and attention in children. Made in a plant that also manufactures milk, egg, gluten, soy, crustaceans, sulphur dioxide and nuts containing foods. NOTE: We advise that all servings are measured using an accurate set of scales. While we make every attempt to provide an accurate equivalent measure using our scoops, these are only approximate and are not a substitute for using a standardized measuring device. Store product tightly closed between 5-25°C (41-77°F) and the relative humidity below 70%. Keep away from direct heat, moisture and sunlight. Formulated by and manufactured for BioTech USATM P.O.Box 9000 U.S.A. Ft. Lauderdale, FL 33340 Distributed by BioTech USA Kft. 1033 Budapest, Kiscsikós köz 11., Hungary

WARNINGS: Keep out of reach of children.

Nutrition Facts (Serving size: 9 g, Servings per container: 20) 100g/9g. Energy (236kJ/55kcal) (2,8%)/(21kJ/5kcal) (0,25%), Fat 0,05g (0,07%)/0 g, of which saturates 0g/0g, Carbohydrate 8,5g (3,3%)/0,77g (0,3%), of which sugars 3,8g (4,2%)/0,34g (0,38%), Protein 0g/0g, Salt 0,03g (0,45%)/0 g, Vitamin B6 7,8mg (556%)/0,72mg (50%), Vitamin C 1333mg (1667%)/120mg (150%), Magnesium1111mg (296%)/100mg (27%), Zinc 56mg (556%)/5mg (50%), Chromium 222µg (556%)/20µg (50%). * Nutrient reference value for adults. Reference intake of an average adult (8400 kJ/2000 kcal). <0.5 g sugar/100 ml ready to drink product. Other active ingredients: BCAA 4:1:1 3000 mg (L-leucin 2000 mg, L-isoleucine 500 mg, L-valin 500 mg), L-glutamine 3000 mg, L-carnitine 680 mg. Distributed by: BioTechUSA Kft. 1033 Budapest, Kiscsikós köz 11., Magyarország.

RECOMMENDED USE: Mix 1 serving (9 g = 2 scoops = 2 heaped teapoons) product with 500 ml water. Consume product during training. For best results, use a blender or a shaker bottle. Do not exceed the recommended dosage!
Biotech For Her Intra Workout