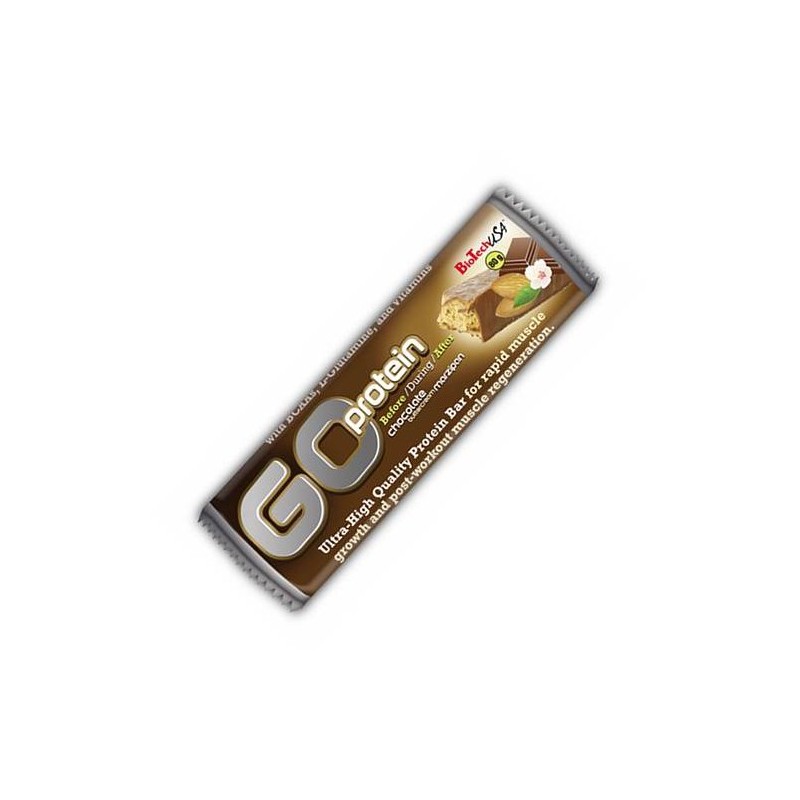  
Biotech Go Protein Bar 21x80 g.
GO Protein Bar is a great refill of valuable Proteins, BCAAs, L-Glutamine and Vitamins before and after workout.
RECOMMENDATION: Consume pre- and post-workout or other physical activity.
NET WEIGHT: 80 grams

STORAGE: Keep in a cool dry place.


Supplement Facts

 
 

Serving Size: 80g

 
 

Serving Per Container: 21

 
 
 
Per 100g

Per bar (40g)
 
 
 

Energy value

1793Kcal / 428KJ

342Kcal / 1434KJ
Proteins
25g
20g
Carbohydrates
40,5g
32,4g
Sugars
28,8g
23g
Fats
17,7g
14,2g
Saturated fatty acids
13,3g
10,7g
Trans fat
0,02g
0,016g
Fibre
5,4g
4,3g
Sodium
0,4g
0,3g
Vitamin C
25,6mg
22mg
Vitamin E
3,8mg
3,3mg
Vitamin B1
0,4mg
0,3mg
Vitamin B2
0,5mg
0,4mg
Vitamin B3
5,1mg
4,4mg
Vitamin B5
1,9mg
1,7mg
Vitamin B6
0,5mg
0,4mg
Vitamin B12
0,8mcg
0,7mcg
Folic Acid
64mcg
55mcg
Biotin
16mcg
13,8mcg
 
 
 

* Percent Daily Values are based on a 2,000 calorie diet

† Daily Value not established

Ingredients: starch syrup, soy protein isolate, milk coating (sugar, vegetable fat, whey, cocoa, milk, soya lecithin emulsifier, aroma), whey protein concentrate, invert syrup, soy flakes, non hydrogenated vegetable fat, cream with hazelnuts (sugar, vegetable fat, vegetable oil, whey, cocoa, hazelnut paste, soya lecithin emulsifier, aroma), coconut (coconut, sulfur dioxide), corn-potato extrudate (corn grits, mashed potatoes, sugar, wheat fiber), rape lecithin emulsifier, cocoa, guar gum thickener, flavor, L-Leucine (2150mg/100g), multivitamin premix (vitamins E, B1, B2, B6, B12, B5, B3, C, biotin, folic acid), L-Isoleucine (1100mg/100g), L-Valine (1080mg/100g), L-Glutamine (325mg/100g), antioxidants (E-306, E-304, E-300), preservative sorbic acid.
Warnings: Intended for special nutrition. Not for use by infants, children or pregnant or nursing women. Keep out of reach of children. Allergy Alert: Contains gluten, soy and milk. This product may contain traces of nuts, peanuts and sesame. The product does not contain GMO ingredients.