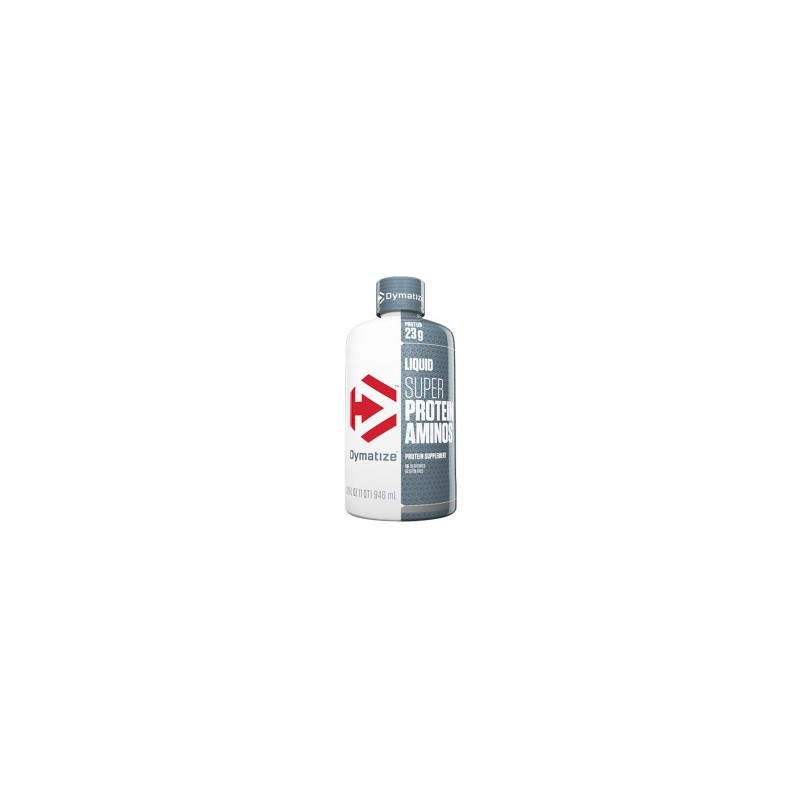  
Dymatize Super Amino Liquid 946 ml.
Dymatize Super Amino 6000 was designed to be one of the strongest amino acid products avaiable on the market, providing you with an asounding 6 grams of high quality, compete time-spectrum protein and aminoacids per day.  Dymatize Super Amino 6000 will help you achieve your training goals
Amount
Per Serving % Daily
Value*

Total Calories 10 

Calories From Fat 0 

Protein 3 g 6% 


Average Amino Acid Profile Per Serving 
L-Leucine BCAA 575 mg 
L-Isoleucine BCAA 313 mg 
L-Valine BCAA 356 mg 
L-Lysine 441 mg 
L-Methionine 127 mg 
L-Phenylalanine 355 mg 
L-Threonine 266 mg 
L-Tryptophan 74 mg 
L-Alanine 221 mg 
L-Arginine 339 mg 
L-Aspartic Acid 555 mg 
L-Cystine 75 mg 
L-Glutamic Acid (glutamine & precursers) 1201 mg 
L-Glycine 166 mg 
L-Histidine 154 mg 
L-Proline 440 mg 
L-Serine 322 mg 
L-Tyrosine 276 mg 

*Percent Daily Values are based on a 2,000 calorie diet.
Ingredients: Super Amino whey-casein protein complex (milk protein isolate, whey protein isolate, whey protein concentrate, micellar casein, Nutrateric® casein), Nutralys® pea protein isolate, brown rice protein isolate, branched chain amino acids (l-leucine, l-isoleucine, l-valine), l-arginine, l-glutamine), maltodextrin, stearic acid, microcrystalline cellulose, croscarmellose sodium, calcium carbonate, silicon dioxide, potassium sorbate, citric acid, polydextrose, hydroxypropyl methylcellulose, medium chain triglycerides, ethylcellulose, ammonium hydroxide, oleic acid, sodium alginate, lecithin (soy). Contains milk.
Dymatize Super Amino Liquid