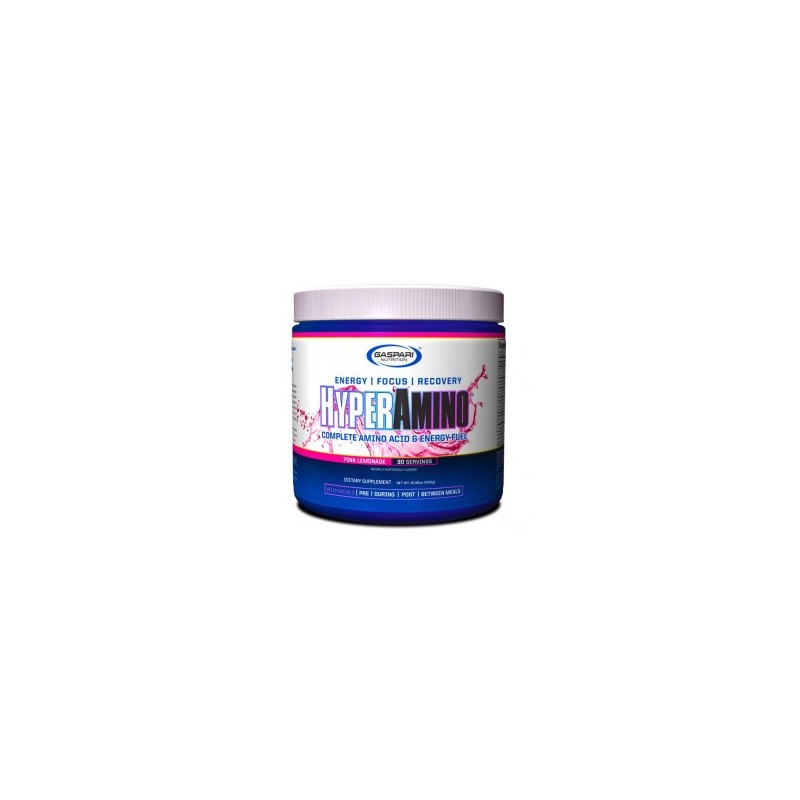  
Gaspari HyperAmino 300 g.
HYPERAMINO is exactly what the name says it is - Amino Acids that drive insane energy. Gaspari Nutrition has taken powerful Amino Acids and then tweaked them with a cutting-edge energy technology so that it blasts you faster and lasts longer. HYPERAMINO is a Gaspari Nutrition Muscle & Strength supplement designed to quench the "hard to please" athlete's thirst! HYPERAMINO includes rapid release energy aids alongside extended release energy components to provide an exceptionally quick, long-lasting, no-crash stimulant feeling that is in a "league of its own" when it comes to Energized Recovery!
Other Ingredients: Natural and Artificial Flavor, Citric Acid, Malic Acid, Calcium Silicate, Silicon Dioxide, Sucralose, Acesulfame-Potassium, Alum Lake Blue #1
Total caffeine from all sources is equal to 100mg per serving. 

Allergens: None known.
Directions For HyperAmino: Add 1 scoop of HYPER AMINO® to 4-10oz (120-300ml) of water, juice, or your favorite beverage. Stir in a glass, or mix in a shaker cup. For best results, take HYPER AMINO® before, during, and after training or whenever an energy fueled Amino Acid boost is desired. Do not exceed 3 servings in any 24 hour period.
Warnings: DO NOT USE AS A SOLE SOURCE OF NUTRITION FOR WEIGHT LOSS OR MAINTENANCE. KEEP OUT OF REACH OF CHILDREN. STORE IN A COOL, DRY PLACE.